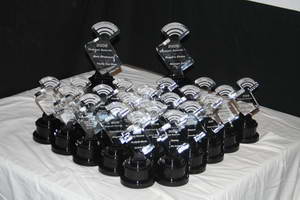 That is the question I get asked the most when it comes to the Podcast Awards. My response is that each category cost close to $400.00 if we want to keep the standards high. The trophies we have made each year are custom designed.
They are produced by the same company that produces the Country Music Award Bullets. Any podcaster that has received one of these beautiful trophies will tell you that they are amazing. We have them laser engraved as well.
I would love to add categories but we need people to get out their wallets in advance of the 2010 event and step up to the plate.